Redding DUI Attorney
Keeping You Informed in the Face of Criminal Charges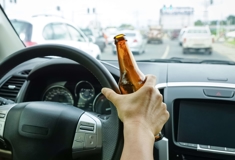 DUI conviction is one of the most common criminal charges and can forever affect your record. Working with our team at Robert L. Hammonds Jr. Attorney at Law through these charges may help you achieve a more desirable outcome in court. Our trusted legal team prioritizes client education and advocacy.
You don't have to face this case alone. Contact us at (530) 628-6077 to request a free consultation with our Redding DUI lawyer.
California DUI Law & License Suspensions
In California, you can be convicted of a DUI even if you do not have alcohol in your system. DUI laws apply to both prescription and over-the-counter medicines as well as alcoholic beverages.
Upon arrest for a suspected DUI, your license is automatically suspended. If you depend on your license to get you to your job and care for your children, you are going to want to want the suspension repealed as soon as possible.
In the state of California, you have 10 days to file your request with the California DMV. If you miss this narrow window, the state may request that the DMV revoke your license for much longer, often up to a year or more.
Common Myths on DUI Charges
Being convicted of driving under the influence can have serious repercussions, including a hefty fine and suspension of your license. The actions you take immediately after being stopped on suspicion of DUI could either strengthen the state's case against you or give you a fighting chance of having the charges dropped. Here is a look at two common myths on DUI charges that could complicate your legal defense.
A field sobriety test is mandatory
Many folks believe that they are legally mandated to a pre-arrest preliminary field sobriety test after a DUI stop. The truth is that you have a legal right to refuse any sobriety testing at the scene and opt for chemical testing.
If intoxicated, you are better off refusing to agree to any field sobriety tests, which are usually based on a subjective determination by the officer, and have your DUI lawyer supervise a mandatory blood alcohol test (BAC) at the station. Failing a preliminary breath or sobriety test will only give the officer irrefutable evidence for a DUI charge.
Blood alcohol testing is usually more standardized, and your Redding DUI lawyer can use legal loopholes to fight the charges such as question the accuracy of the testing device.
Tricking a breathalyzer
Some people believe that mouthwash, breath spray of fresh mints can help mask or reduce alcohol scent during a breath test. In truth, such tricks generally won't work, and you may end up failing the breath test. In fact, mouthwash and breath spray typically contain alcohol and may potentially increase the level of measurable alcohol during the breath test.
Ignition Interlock Device California
An ignition interlock device may be imposed as an alternative to a suspended license, as a way to lessen the length of the suspension, or as a condition of probation. In the state of California, courts are more likely to require first-time offenders to use an ignition interlock device if their blood alcohol level was above .15, if they have two or more moving traffic violations, or if they refused testing when arrested.
An ignition interlock device in California requires the operator of a vehicle to measure the alcohol in their system before starting the car. It functions similarly to a breathalyzer–the driver must blow into the device before the vehicle will start. If alcohol is detected, the ignition will lock and the driver must try again a few minutes later. Each time the driver re-tests and fails, the ignition is locked for a longer period of time.
To ensure that a driver does not begin drinking after successfully starting the vehicle, random tests are required while the vehicle is in motion. The driver will have to test their breath while driving, and if alcohol is detected, the vehicle will signal (with a blaring horn or flashing lights) that the driver must pull over and stop the car, resulting in a locked ignition.
Breath samples are reported to all parties requiring the device to be installed (court, DMV, or probation office). Depending on the state, samples are sent immediately or on a scheduled basis. These devices provide those with a DUI the chance to resume their responsibilities (such as work) while also protecting the public.
A Defense for First-Time & Repeat Offenses
First-time DUI offenders often face less severe consequences, though that can change if someone was injured or killed as the result of your alleged DUI. If this is not your first offense, the court may issue increasingly more serious consequences such as longer jail time or even permanent loss of driving privileges.
Rob Hammonds and our legal team can review many elements of your case when building a defense after getting answers to the follow questions:
---
Did the arresting officer have a good reason for pulling you over?
Were you actually intoxicated?
Was anyone injured?
What was your BAC?
Did the arresting officer make any mistakes while filling out your ticket?
---
Our Redding DUI attorney can make sure the court has a complete understanding of your situation and will work tirelessly to help you avoid any unnecessary or unfair charges.
Call our Redding DUI lawyer at (530) 628-6077. We defend clients in Redding, Shasta, Tehama, Trinity, and Siskiyou.